Digital Marketing for the Construction Industry:
A Comprehensive Guide to Best Practices
Download our comprehensive guide to best practices for digital marketing for the construction industry.
If your construction industry company is struggling with generating new leads, nurturing your prospects through the sales funnel, positioning your company in the marketplace, or determining which marketing tactics will give you the best ROI, this guide is for you. Our marketing experts have decades of experience working with companies in the construction industry and have put together this 21-page guide to help you think through how to approach marketing for your company.
TABLE OF CONTENTS
Introduction: Why Digital Marketing Matters for Companies in the Construction Industry
How Construction Company Marketing Differs From Traditional Digital Marketing
Building Your Marketing Strategy

STEP 1: Setting Marketing Goals
STEP 2: Setting Marketing KPIs and Budget
STEP 3: Defining Your Audience and Why They Buy
STEP 4: Setting Your Company Apart
STEP 5: Choosing Marketing Tactics

Iterate: Plan, Do, Check, Act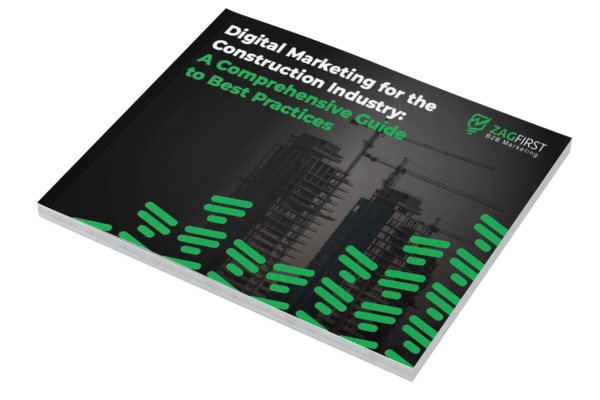 Partner with a digital marketing agency that understands and focuses on the construction industry
Every company is unique, and we know we can't take a "one size fits all" approach to digital marketing for the construction industry. We've spent years, and worked with dozens of clients, to truly understand the complexities of construction industry marketing. We'll work with you to determine which set of digital marketing strategies most effectively achieves your goals and creates a positive ROI. Some of our tactics include:
Search engine optimization (SEO) and organic search
Paid search
LinkedIn marketing
Content marketing
Email marketing
Marketing automation
Website development
Contact a construction industry marketing expert